What to look for in a tennis coach
Looking for a tennis coach can be a minefield – there are a lot of options out there and even more information from all sorts of sources. This blog post aims to make that process more straightforward for you.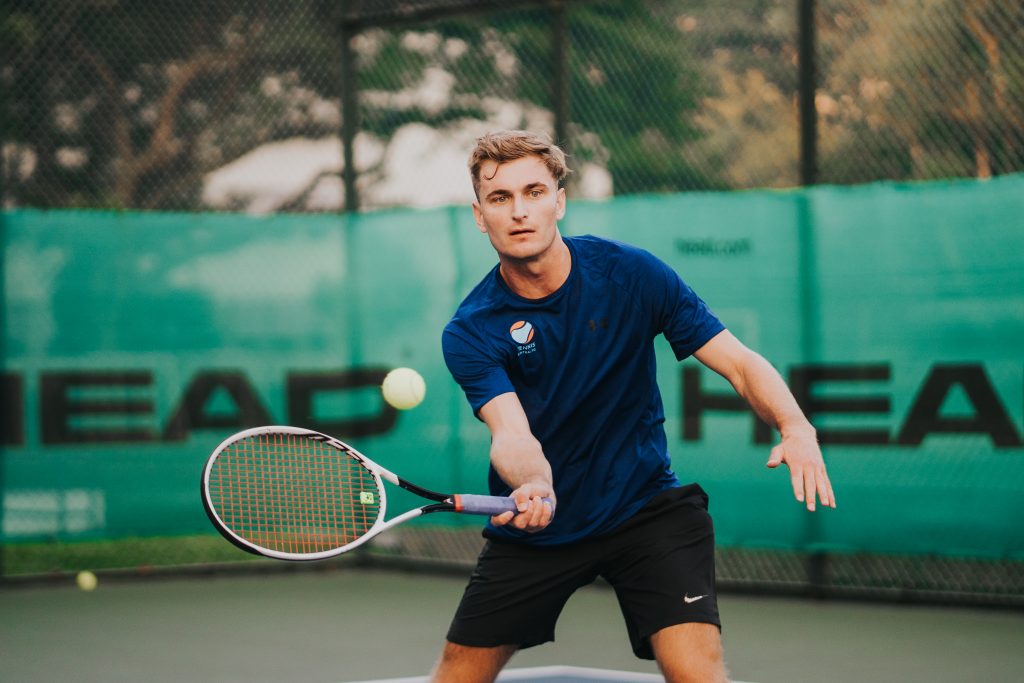 First things first, check if the coach is qualified.
This seems like a very obvious step, but it's actually trickier than you'd imagine. Anyone can call themselves a tennis coach, but a qualified coach will have greater and more thorough knowledge of coaching, shot diagnosis, player development and how to structure a lesson.
So if you come across a coach you're keen to work with, Google their qualifications. There are many coaches out there who do have some level of certification in tennis coaching, but strictly speaking, they are not fully qualified.
For example, if they are 'qualified' by the Professional Tennis Registry (PTR) or the United States Tennis Association (USTA), then their qualifications are, in fact, poor.
Take the PTR course, for instance. It is very hard to fail – the threshold to pass the test, which is conducted in a single day or just a weekend, is incredibly low. The playing standard required to get onto a PTR course is also very low. Furthermore, the PTR course has no affiliation to any other governing body for tennis, such as the International Tennis Federation (ITF). That means there is no way to cross check the course quality, content or pass standards.
The USTA courses also leave a lot to be desired. Despite the US hosting a grand slam event and having some of the best tennis facilities in the world, they are, as a nation, and generally speaking, far behind their European counterparts in the area of tennis coaching. It is one dimensional and do not take a game-based approach, which may explain why,at the elite level, manyof the professionals, particularly on the men's side, do have notable holes in their games, whether technically or tactically. Like the PTR courses, the USTA ones do not have any affiliation with the ITF in terms of the quality, content or pass standards on their courses.
What you are looking for is a coach fully qualified from a country with the ITF Gold Level status. These countries, as at Sep 30, 2022 are: Australia, Austria, Belgium, Brazil, Canada, Colombia, Finland, France, Germany, Great Britain, Ireland, Italy, the Netherlands, Norway, Portugal, South Africa, Spain and Switzerland.
The ITF Recognition of Coach Education Systems Programme was established in 2018 and aims to ensure that a coach's education meets minimum standards in six key areas – facilities and equipment, management, integrity, coaching team, sports science and medicine, and player programmes.
The Gold Level status is the highest recognition possible bestowed by the ITF. Any other countries outside the aforementioned list will fall into lower statuses of recognition, such as the Silver, Bronze and White Levels. Courses performed in these countries will not be as thorough or comprehensive as the courses from the ITF Gold Level ones, so coaches are less likely to be able to train students with the same level of attention to detail and comprehension.
It must, however, be noted that just because a coach has received their qualifications from an ITF Gold Level country's tennis governing body, that does not mean they are fully qualified.
For example, the first two levels of certification under the ITF Coach Education Programme normally qualifies them as assistant coaches, working under a more qualified coach and only conducting some junior groups and beginner groups. Likewise, if the coach is only an Lawn Tennis Association (LTA) Level 1 or 2 one, then they are not deemed as fully qualified or are only qualified to an assistant level. To be considered as a fully qualified coach, one would have to be a LTA Level 3 coach and above.
In the same breath, if the coach is qualified with Tennis Australia – the country's governing body for tennis – but only has a Hot Shots or junior development certificate, then they are only an assistant coach in terms of qualifications. A Tennis Australia Club Professional qualification would deem them to be fully qualified to work on their own and conduct private lessons at their own free will.
Why does all this matter?
Well, becoming a fully qualified coach takes time, money, dedication and skill. Why would you want an unqualified or partially qualified coach when you can have a fully qualified coach from a country with tennis qualifications that are ITF Gold Level-standard.
By hiring a coach that is fully qualified, you are going to get a more competent coach who will be far more adept at structuring a lesson, and will give correct feedback in a much more specific and detailed manner. You will very likely improve much faster and have an overall superior tennis experience.
Second: How experienced is the coach?
It is worth checking if the coach has previous experience working in a club. Clubs are the melting pot of all tennis; they are at the centre of the action, working with anyone, from beginners to tournament players, and dealing with members. More importantly, they will learn so much from other coaches. Exposure to other coaches in a club setting is unmatched and unrivalled to any other setting. So much can be learned this way from other coaches on how to do things and, sometimes, how not to do things.
Player development is a big part of club coaching too. Rather than just coaching someone, being able to develop them as a player and put them in a system takes more skill on the part of the coach and can be most easily accomplished in a club setting.
This is why I would say that if a coach has never worked in a club at all in their life and has only ever done resort coaching or worked in private condo settings, it is a red flag. This is purely because the experience that can be gained in a club is unparalleled to the aforementioned settings. In other words, that means it's highly unlikely their depth of knowledge on how to coach and develop a player will be on par with someone with a good amount of experience in club settings.
Lastly, one thing many often overlook is passion for the game.
In speaking with the tennis coach, do you get a sense that the coach is in it just for the paycheque, or do they actually love, live and breathe the game of tennis?
If your coach has a true love for the game then your experience will likely be far more enjoyable. And passion is infectious, so they might pass the bug of tennis to you and get you truly inspired.
Does your coach also keep up their own tennis, especially in the form of tournament participation or training and drilling sessions? This one may not be a deal-breaker, but if the coach isn't keeping up their game at all, and all of their competitive tennis is spoken about in the past tense, then it is probably an orange flag and denotes a lack of passion and enthusiasm for the game and the job.
It might also signify a poor playing level too, particularly if the coach has never played a tournament in their life or hasn't since their junior days. A strong playing level isn't always the be-all or end-all in a coach because I have met some former ATP and WTA professional players who make pretty awful coaches. But a coach, in my opinion, should still have a minimum standard of playing to push their students,keep up in rallies, as well as drill and hit in an open court to a reasonably good level.
Once you have considered the above information, you should now be in a better position to make a more educated and informed choice when deciding on a coach.
Choosing well is likely to result in faster improvement in both the short and longer term. You are also more likely to stay in the game for a longer time, rather than picking it up as a fad and dropping out some short time later.
All the best!
By Sam Burrell