Tennis Central SG is a specialist tennis coaching service provider that aims to deliver the highest quality of coaching possible in Singapore. We cater for both adults and children of any background and playing standard, from beginners and improvers to intermediates and advanced players. 
Services provided include private lessons, semi-private lessons (i.e. 2 pax), group lessons, ladies WITS team training, cardio tennis, tournaments, private/birthday parties, and coach workshops. This can be done at your home courts or public courts. 
我们也能用基本华语进行网球课程,适合不用英语的学生们
At Tennis Central SG, we do not believe in static or predictable techniques or coaching. Rather, we believe that tennis coaching should be holistic and cover three main areas: technique, tactics and psychology. Our lessons will be comprehensive and well-rounded, incorporating these three facets into every lesson. This also means taking a "Serve, Rally, Score" approach and game-based coaching to fully maximise a player's potential and enhance their tennis abilities. 
Such a philosophy will not only yield greater improvement, but also greater enjoyment for players.
About the coach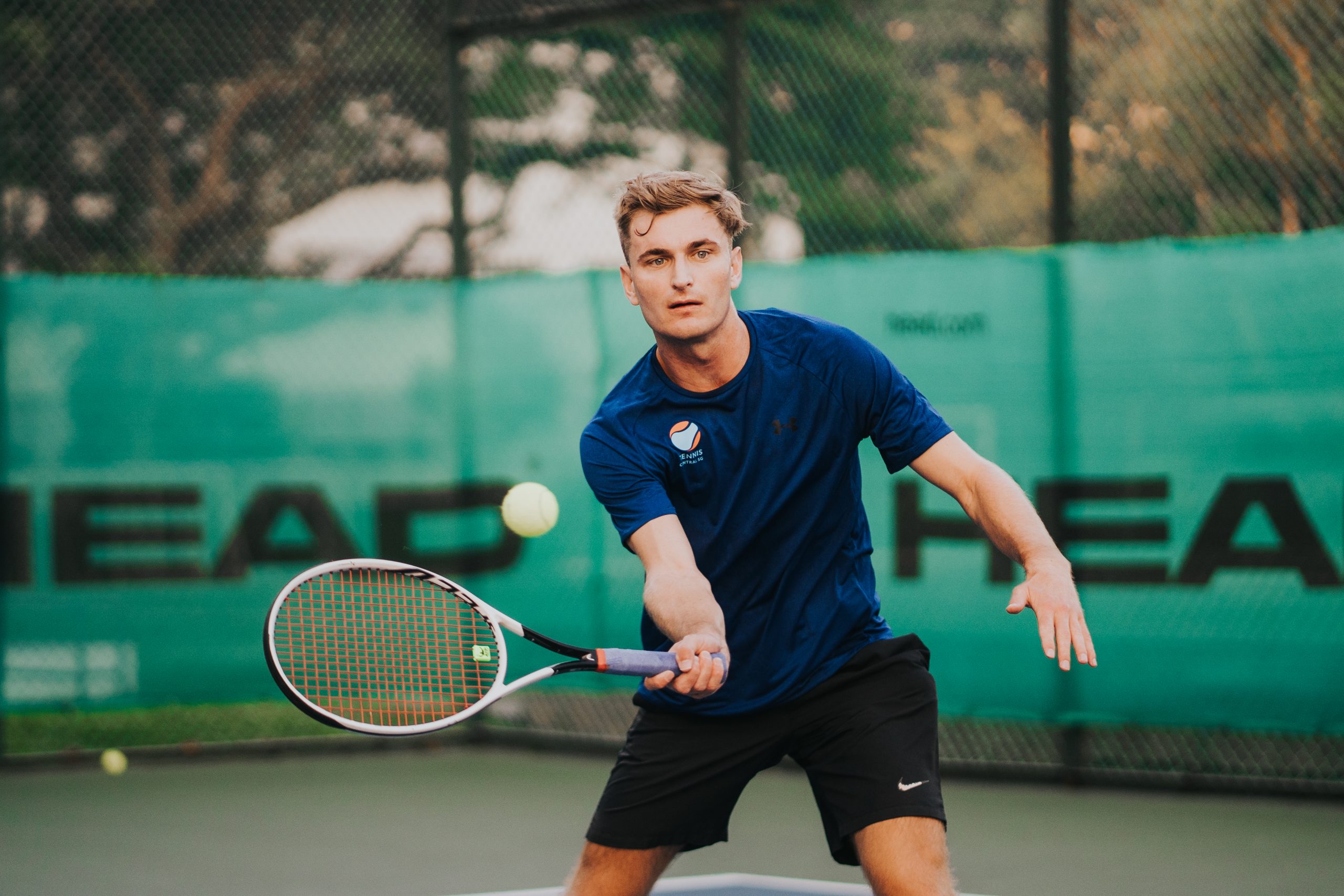 Coach Sam Burrell
Sam is from the United Kingdom (UK), the birthplace of tennis, and serves as Director and Head Coach at Tennis Central SG. He started his coaching career in 2011, while studying for his degree in Sports and Physical Education at the University of Bedfordshire.
Since then, Sam has travelled the globe coaching people of all ages and backgrounds – in his native UK, Australia, and now Singapore, where he has called home for the past six years.
In that time, Sam achieved his accreditation as a Lawn Tennis Association (LTA) Level 3 coach, one of the highest possible qualifications for tennis coaches in the UK. He also obtained LTA's Cardio Tennis and Extreme Cardio Tennis qualifications.
Beyond coaching, Sam has a genuine passion for the great game of tennis. In the UK and Australia, he had competed in numerous tournaments and leagues, winning many medals on various surfaces, from grass and clay to indoor hard courts. 
He still loves training and competing today, and reached a career high ranking of Top 10 in Singapore for the singles category in 2020 and doubles category in 2021. In 2022, he also won a men's double title in Framingham, UK. These competitions not only hone Sam's skills as a tennis player, but also helps him keep a finger on the pulse in the industry. 
Sam's Stats
Nationality: British
Qualifications:
Bachelor's in Sports and Physical Education (First Class Honours) from the University of Bedfordshire, 2014
LTA Level 3 accreditation 
LTA Cardio Tennis and Extreme Cardio Tennis qualified
Plays: Right-handed, one-handed backhand
Height: 190cm
Favourite shot: Serve
Favourite player: Roger Federer
Favourite surface: Clay
Favourite thing about coaching: Taking a player from a beginner's level to a standard where they can serve, rally and score confidently. In 2016 at Cambridgeshire's Virgin Active Health Club, he managed to singlehandedly increase the number of regularly competing juniors by 100% – at the time, the biggest increase of any club anywhere in the country.